Showcase and manage your hotel online
The ultimate hotel theme
Hotel Booking WordPress theme is a sleek app theme powered by our advanced Tevolution plugin and the Booking System add-on. It is an ideal solution in case you're looking to create a hotel website that both looks and works the part.
Key features



Showcase your house/hotel

Having a good looking site is important everywhere, but most of all in the hotel business. Each part of the theme has been designed to not only work great, but to also look great.




Online booking

Don't rely on third-party services and scripts, enable bookings directly on your site. As admin you can approve or reject any booking claim submitted by visitors.




Completely widgetized

The beautiful Hotel Booking homepage is created with a number of custom widgets. Swapping elements or including new ones is as easy as drag n' drop, literally.




Customize the booking form

Include the fields you want inside the front-end booking form. Apart from a few mandatory fields (room select), most of it is totally customizable.
The Templatic Booking plugin is available as a standalone product as well!



Add services

Want to charge extra for stuff like parking or WiFi? Add service in the back-end, set the price and they'll appear as options inside the booking form.




Create a multilingual site

Use WPML to setup a multilingual hotel website where visitors can change the default language per their requirements.




Seasonal prices

Do your prices change depending on time of year? If yes, we've got you covered. Set a timeframe + new price and the system will take care of the rest.




Extensive booking calendar

In Hotel Booking each room you add will come with a matching availability calendar allowing visitors to clearly see which dates are taken and which are available.




Setup promotions using coupons

The included coupon module will allow you to offer discounts on your regular booking rates. An optional coupon field appears by default inside the booking form.




Maintain a regular ol' blog

No worries, we didn't forget about the blog. Starting a blog with this advanced theme is as easy as creating a new category and adding some posts to it, no further tweaking necessary.
Hotel Booking WordPress theme features a stunning responsive design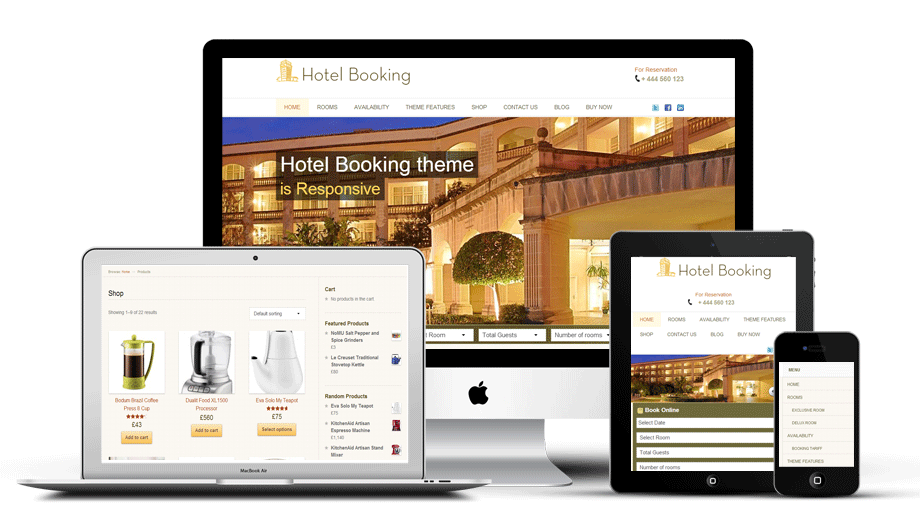 How to make money with Hotel Booking?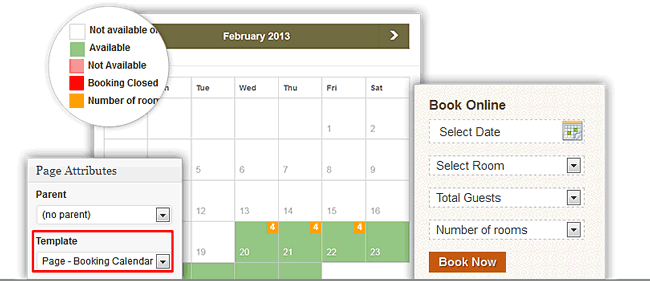 The primary way to make money with Hotel Booking WordPress theme is to charge for accommodations. This is achieved using a booking form which allows visitors to book a room and then pay for it. The theme can also be setup so it only charges deposits; visitors can then pay during check-in or check-out.
Second option is by selling products. Using the popular WooCommerce plugin (explained in detail below) you can turn Hotel Booking into a bona fide web store.
Third option is turning Hotel Booking into a Tevolution-powereddirectory. Create a post type of your choosing, setup a front-end submission form and then charge for submissions.
Customizable, widget ready homepage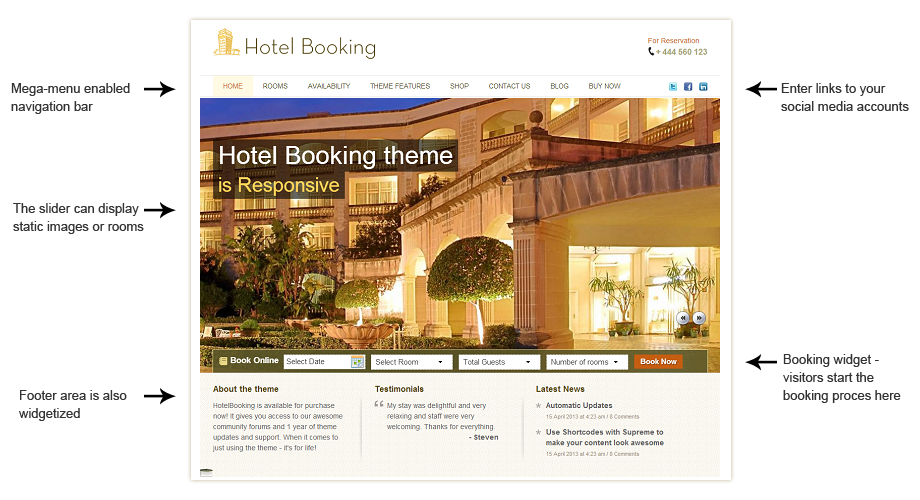 The upgrade to HotelBooking 2 was worth the wait, and thanks for all the help and support.

Jeff Schult, hotelsayulitacentral.com
Visit our Showcase to see what others have done with Hotel Booking
The power of Tevolution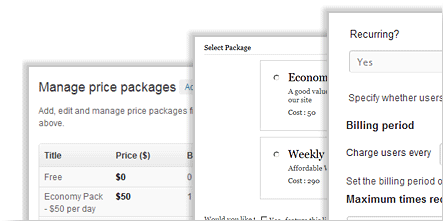 Tevolution is a plugin we use to power our advanced app themes. It can be used as a standalone product but works best coupled with themes such as Hotel Booking. Tevolution has the power to turn any theme into a full-blown directory.It includes stuff such as the ability to create new post types. After that has been created you can continue with generating submission forms (so visitors can add content) and evenmonetizing the forms (so they pay before submitting).On top of that there are features such as bulk import/export, custom register forms, transaction reporting and so on.
Tariff page

No manual price tables; generate a page which lists all your room/house prices.

Block dates

Make certain dates unavailable for booking. For instance, during room/house repairs.

Manage emails

Each email sent by the system can be tweaked in the back-end. Some shortcodes are available too.

Set tax

Set your tax amount and then choose for which houses/rooms it should apply to.

Set a deposit

Don't want to charge the whole amount online? Set a deposit and allow visitors to pay most of it during check-in.

Custom background

Use the WordPress customizer to change the background. It's all done in real-time.

Sticky header

The sticky header can display our navigation bar even during scrolling. Keeps the most important links accessible.

Infinite colors

The theme comes with an extensive customization back-end allowing you to easily change the theme's appearance.

Social buttons

Allow visitors to share your content using Twitter, Facebook, and Google+ social networks.