The ultimate job directory WordPress theme
Starting an advanced job directory usually meant spending thousands of dollars and months of work. With our job directory WordPress theme and its 1-click install feature you can get started quite literally within minutes. It doesn't get better any than JobBoard.
Key features

Manage both jobs and resumes
By introducing separate post types for jobs and resumes JobBoard ensures all content is logically structured. Create categories for both resumes and jobs!
Charge for submissions
The easiest and best way to make money with JobBoard is to charge for job submissions. Multiple payment levels are available in a form of price packages.

Multiple job types
Organize jobs in several job types. By default these include Full Time, Part Time and Freelance. New ones can also be added.

Customize the submission forms
Each field you see inside the job or resume submission form can be modified inside the theme's extensive back-end section. Creating new ones is possible as well.

Job seekers and providers
JobBoard comes with two new user roles; Job Seeker and Job Providers. Based on these roles certain parts of the theme will be unavailable to certain members.

Maps
Enter the job location and the theme will display a map on job detail pages. Creating a job listings map is also available via a dedicated page template.

Multiple payment gateways
JobBoard comes with several included payment gateways, including PayPal, Google Wallet, Authorize.net, WorldPay and 2Checkout. Offline methods are available as well.

Moderate submitted listings
Jobs and resumes that your visitors submit can either be published automatically or held for moderation. It's totally up to you to decide.

Maintain a regular ol' blog
No worries, we didn't forget about the blog. Starting a blog with this advanced theme is as easy as creating a new category and adding some posts to it, no further tweaking necessary.

Setup promotions using coupons
The included coupon module will allow you to offer discounts for created price packages. This will for sure come in handy early in the sites's life-cycle.
This job directory WordPress theme features a stunning mobile ready design
Custom fields management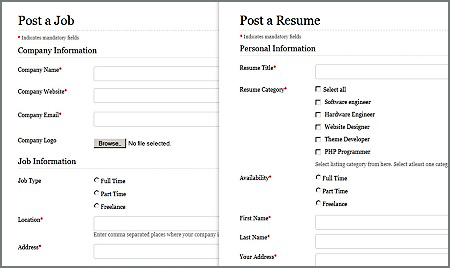 The job and resume submission forms are possibly the most important part of any job directory WordPress theme, and JobBoard is no different. Using the back-end custom fields section you'll be able to edit or delete all pre-existing fields as well as add new ones.
While creating new fields you'll have access to multiple field types. These include various text fields, date pickers, select and radio buttons and multi checkbox.
Other custom fields capabilities include choosing a display location (front-end / back-end), whether or not the field is actually shown on the detail page and the ability to assign a css class.
Customizable, widget ready homepage